Samsung Galaxy View: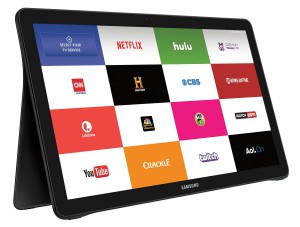 Instant access to movies and TV with touchscreen grid menu

Ideal for streaming movies, gaming, and browsing

Integrated handle for easy portability

Extra-large, Full HD display for vivid detail

Expand storage up to 128GB with a microSD card (sold separately)

Up to 8 hours of battery life per charge

The Samsung Galaxy View is entertainment on your terms.
Stream content on an 18.4″ full HD display with stereo sound.
Switch easily between live TV, streaming video and your favorite apps just by tapping the touchscreen. And take it all with you from living room to kitchen to your room and more.
With the Galaxy View, you always have the best seat in the house.
Review:  "As an android user this tablet was easy setup for all of the usual streaming services that I use. With Directv, Netflix, Hulu Plus and all the other apps made for streaming this tablet delivers all that it promises. The Microsoft Office apps linked to my Office 365 account are an added bonus. They are very easy to use on the large screen tablet."
"I wasn't exactly sure if I would like the Samsung Galaxy View. Is it a tablet or a portable TV? It's both. The screen is larger than my laptop and very clear and sharp."
"The controls are very simple, an on/off button and a volume control on the top. On one side is a 3.5mm headphone jack, a 2.0 USB jack and the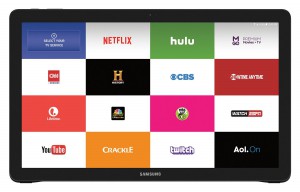 power port. Unfortunately it is a proprietary Samsung brick and pin and a thin pin at that. I wish it was a standard USB charger. It came with a 45% charge, so as suggested, I charged it fully in about 40 minutes. I am not sure how you would get live TV if your provider doesn't have an app like my Verizon. There is no HDMI port but you could cast with other equipment like Chromecast or Apple TV. You could load Kodi and get a plethora of programming."