Parrot AR Drone Quadricopter, 2.0 Elite Edition, 720p: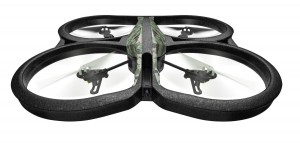 The Ultimate Wi-Fi Controlled Quadricopter:  Easily controlled by Wi-Fi using a smartphone or tablet, the latest Parrot AR. Drone 2.0 Elite Edition collection offers enthusiasts a choice of three classic camouflaged styles: sand, snow or jungle. Inspired by desert, arctic and rain forest landscapes. Each individual product is supplied attractively packaged in its own specially designed printed carton with a distinctive indoor and outdoor hull, plus one pair of black propellers and another customized pair of propellers to compliment the color scheme. The exclusive Elite Edition packaging includes one 1000mAh lithium polymer battery to provide up to twelve minutes of flying time, plus a convenient battery charger with international adapters. Featuring a high definition camera with a video recording facility, plus flight data sharing, a patented piloting mode, and an innovative pressure sensor for increased stability at any altitude, Parrot's amazing AR. Drone 2.0 Elite Edition quadricopter can even perform four axis flips on command.

Record & Share on USB:

 For users wishing to shoot longer videos, without using their smartphone/tablet

memory, a USB plug is located inside the AR. Drone 2.0 for easy USB recording. Shoot as much footage as you want, and share easily on YouTube or Picasa when finished, thanks to the embedded options of the application.

Higher & Faster:  The AR. Drone 2.0 offers unique stability, thanks to its embedded sensors and navigation system. Any movement not solicited by the pilot will be automatically corrected by the AR. Drone 2.0 to maintain a perfectly still position in the air, while you are not controlling it. Push it, fly it in windy conditions (up to 15 m/h), and it won't move an inch until you decide to make it move. Thanks to its new pressure sensors, the AR. Drone 2.0 will provide this automatic stability even further, by making sure it remains stable whatever the altitude.
Review:  "It is simple to fly and pretty stable. I've taken it out in 15mph winds and it handled fine. Anyone can fly it without experience, and after a few hours of flight time you will be a master. The camera takes decent video which streams to your phone or tablet real-time and the video is automatically saved to your photos. It is pretty rugged and can hold up to some crashes. At $300 it comes with everything you need to fly, and it is ready to go right out of the box."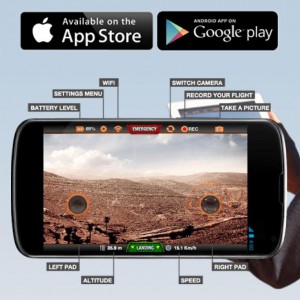 "Wish the video quality was better, but all in all I feel that I got my money's worth. Love watching this thing stabilize and compensate for the wind. Bottom facing camera doesn't feed video to your phone or tablet but it does detect drift and almost effortlessly compensates to stay in place."