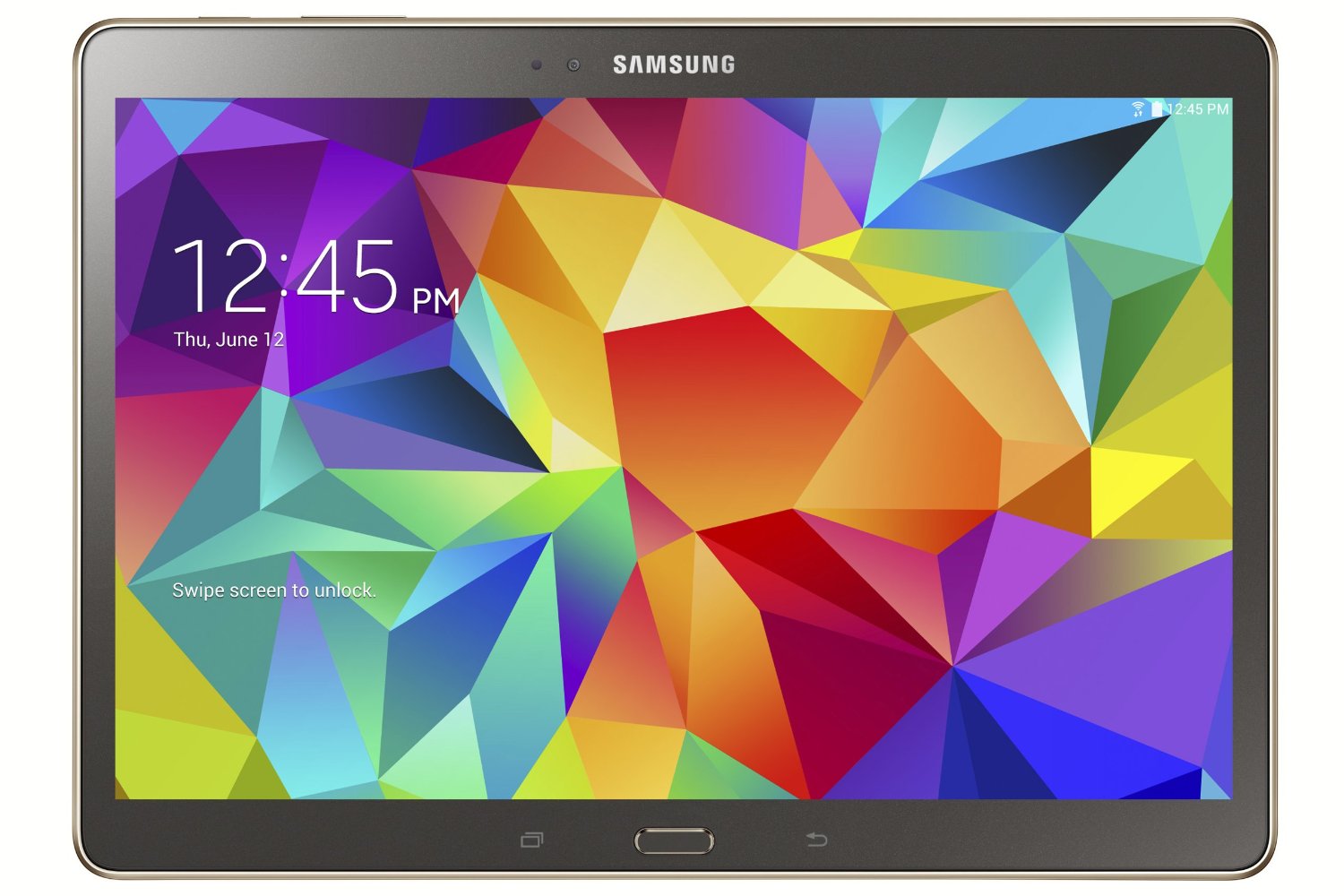 Samsung Galaxy Tab S 10.5:  
Android 4.4 Kit Kat OS, 1.9 GHz Exynos 5 Octa 5420 Processor (1.9 GHz Quad Core + 1.3 GHz Quad Core)

16 GB Flash Memory, 3 GB RAM Memory

Camera: 8MP Rear with LED Flash + 2.1MP Front

Super AMOLED Display with 2560×1600 WQXGA Resolution

Features Ultra Power Saving Mode and Fingerprint Scanner




Super AMOLED Display Delivers Vivid Graphics

Enjoy rich graphics and clear text while you watch movies, play games, or read books on the large 10.5-inch screen. With twice the resolution of an HDTV, the Super AMOLED display provides vivid images and extra-crisp contrast.

Use Two Apps Side by Side with Multi Window Feature

Do more on your tablet with the Multi Window feature. It conveniently allows you to use two apps, side-by-side, and drag content from one window to the other. Listen to music and browse for lyrics, type emails while referencing other documents, or compare content on two websites at the same time.

Built-in Cameras for Photos and Video Chat

Equipped with an 8-megapixel rear camera and a 2.1-megapixel front camera, the Galaxy Tab S lets you take high-quality photos and video chat with friends and family members.
Reviews:  "Android is a very capable operating system. With it, Google accomplished the unthinkable — widespread Linux use by average home users. Linus Torvalds popularized his kernel with nerds and the enterprise, but the search giant made it accessible for all. Here's the thing though — the fact that Android is powered by Linux doesn't matter. No, to the average consumer, all that matters is the experience."
"This tablet has 3gb of ram, which is 1gb more than the tab pro. Its much faster now and multitasking is smoother. More apps can run in the background and fewer refreshes in apps and on webpages."
"This is a great little tablet. I needed something light because of a limiting disability and the Samsung Galaxy Tab S 10.5 "fit the bill."