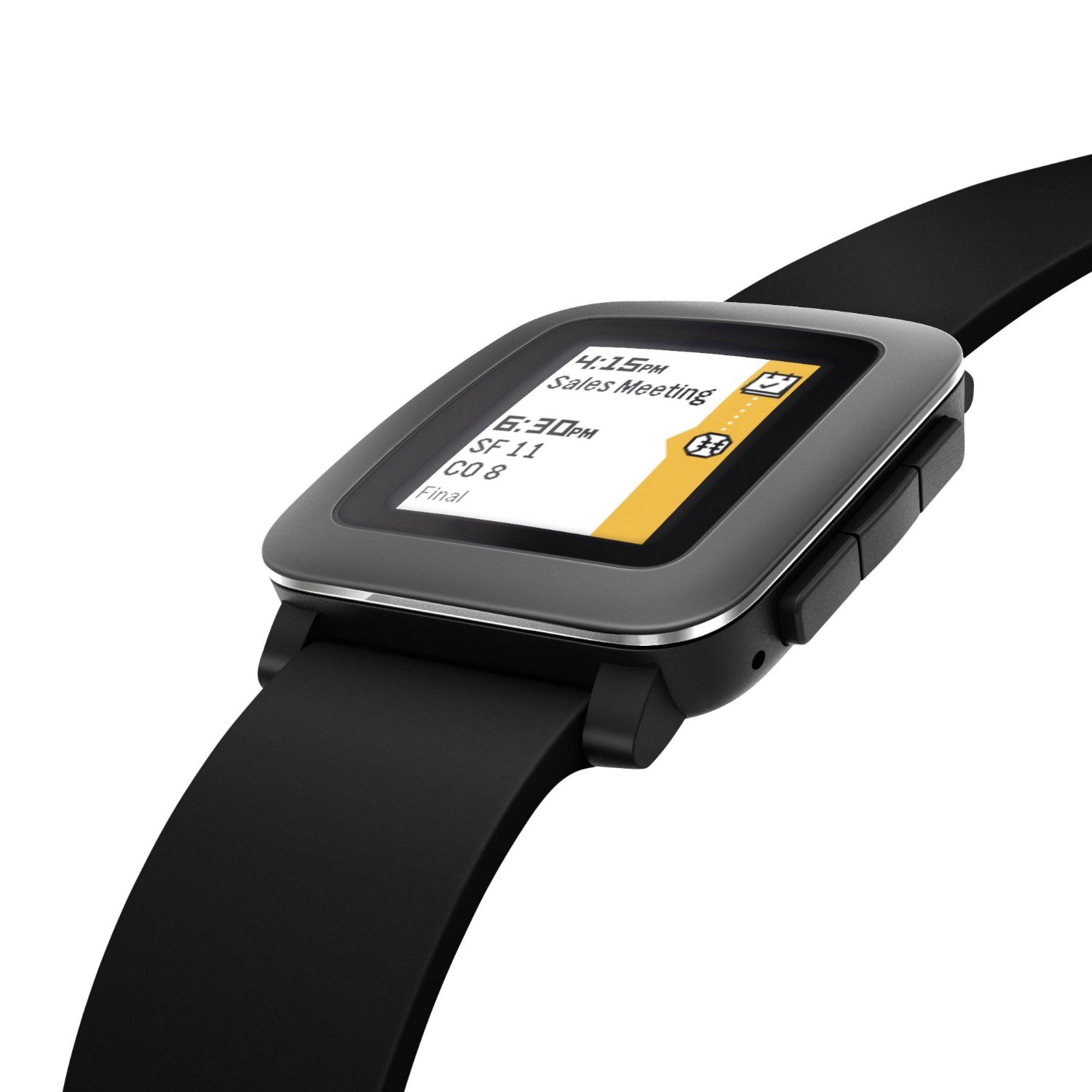 Pebble Smart watch:

Always on, color e-paper display with led backlight

Battery life up to 7 days

Water resistant to 30 meters

Built-In microphone for voice notes and quick replies

Choose from thousands of custom watchfaces in the Pebble appstore, with more added every day. Please note: Sending voice replies works with most major Android apps including SMS, Hangouts, Gmail, Facebook Messenger, Whatsapp and hundreds more. Voice features for iPhone users will be available in a future software update.
Past, present and future-at your fingertips. The Best interface for a great smart watch is time.
Pebble time's new timeline interface respects that busy people want to get. Things. Done.
Pebble time lets you act now, reflect on the past, and look into the future. With a new color e-paper screen and a thin, comfortable ergonomic design, the pebble time smart watch is the companion you'll want with you every moment, every day.
Includes: ●USB charging cable●22mm silicone strap.
Reviews:  
"Absolutely love my Pebble. I recommend it to ANYONE and EVERYONE. The Original smartwatch, I still believe in them!"
"The Pebble Time improves on everything that bothered me about my Moto 360 while retaining similar functionality. It doesn't feel cumbersome on the wrist, the battery life is best in class and it does everything a smartwatch should do really, really, well."
PROS:
– The overall size and curved back, coupled with the thick included rubber bands make for a very comfortable wearing experience.
– The battery life is absolutely fantastic, one full day of moderate use equated to roughly 90% battery life remaining for me.
– The controls are intuitive and the interface is very eye catching and pleasant to use. More so than Android Wear, in my opinion.
– The always on display is easy to see in direct sunlight and the backlight suffices for dim environments.
– The added water resistance is much appreciated as well.
– The vibration motor could probably wake someone out of a coma.
– There are a lot of customization options: quick launching apps using the up and down arrows, custom watch faces, custom replies, etc.
– Not being restricted to either iOS or Android ecosystems is a huge plus.
CONS: (You might not experience any of these)
– 1st unit I received had what appeared to be small specks of dust under the display. Replacement unit did not exhibit this issue.
– Some people claim the bezel around the screen scratches easily. Tested that claim on my first defective unit. The gorilla glass scratched before the surrounding stainless steel bezel did.
– Stopped receiving notifications in the middle of the day, only to have them come flooding in later that night. Appears to have been an isolated issue.
– Voice recognition can be a little hit or miss.