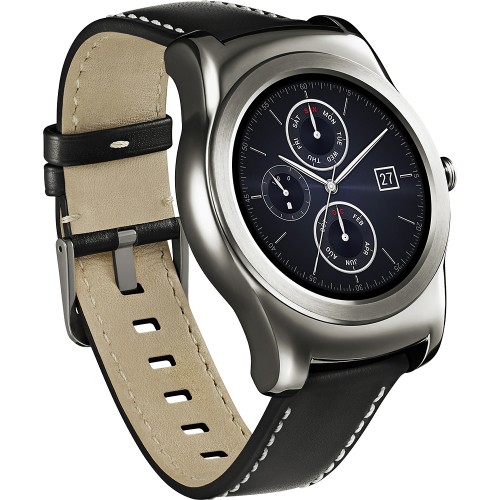 LG Urbane Smart Watch:  
Stay connected with this LG Watch Urbane GW150.AUSASV smartwatch, which delivers smart notifications based on a prioritized ranking system to help you manage your schedule.
Just say "OK Google" to send a text message, play a track or search the Web.
Compatible with select cell phones with an Android 4.3 Jelly Bean operating system
Wi-Fi and Bluetooth 4.0 interface
LG Music:  Lets you create custom playlists and enjoy them when offline via Bluetooth.
LG Call:  Makes it easy to dial numbers, access your important contacts and view recent calls via a connected phone.
LG Pulse:  Along with a built-in heart rate monitor continuously monitors your heart rate to keep you apprised of important information.
Fitness integration:  Syncs with sensors and applications to deliver real-time health and fitness data.
Navigational prompts:  Provide turn-by-turn directions.
Phone Free mode:  Lets you connect to your Android phone via the Cloud. Hands Free mode allows you to quickly scroll through cards by moving your wrist.
Draw emojis:  Create fun images to send via text message, IM or e-mail.
Smart notifications:  Utilize a prioritized ranking system to identify important events and provide context-based alerts.
1.3″ P-OLED display:  With Gorilla Glass 3, 320 x 320 pixels resolution and 245 ppi provides a clear view.
Reviews:  "So many are wondering if the watch is worth the price. Well at first I was also skeptical and I even went and bought the cheaper Moto360, but the flat tire was a deal breaker. The LG Urbane is awesome and the battery is awesome as well. The voice recognition is also very helpful. I like the different watch faces it comes with. Also the great news is that it connects to wifi and also android will continue to improve the android wear software. I did my research and the best android on the market. Try it out and see why its an awesome and gorgeous watch. I get many compliments and top quality I might add."
"Best android wear device yet. I'm actually getting over 2 days of battery with it."
"no complaints, easy to use, very enjoyable, and the first to look like a real watch! Kudos, LG."
Recommended Dealer:
Lg – Watch Urbane 22mm Smartwatch For Select Android Devices – Silver